Oahu guide: best beaches, hikes, restaurants, hotels, and things to do
Whether you're planning your first trip to Hawaii or you're coming for a return visit, we have to say that Oahu is definitely one of our favorite go-to getaway destinations. The simple direct flight from the west coast always feels too good to be true as we're abruptly greeted with the welcoming heat and friendly locals on Oahu. But the ease of travel isn't the only reason we can't seem to avoid returning to this South Pacific gem.
Oahu has so many unique draws for us. Top notch beaches, tropical hikes, delectable cuisine, and awesome accommodations make Oahu an absolute paradise. Although Oahu is quite small and it's easy to traverse back and forth to see all the sights, it makes for a much more relaxed and satisfying time to do a bit of planning to lump some of your desired destinations together to have an efficient itinerary while you're trying to squeeze the most out of your precious vacation time. On our first trip to Oahu, we simply got a hotel and showed up. After some trial and error, we put together here what we think is a pretty thorough list to get you started with planning your next trip.
VIBE OF THE ISLAND
A major reason to give Oahu a shot is that it truly offers a little bit of everything. Let's start with the basic layout of the island. Honolulu and Waikiki on the southeast shore of Oahu feel like your typical city. Honolulu is large (300,000+ people) and Waikiki is a beachside tourist hub with a mini Las Vegas feel. It's packed with people and home to the famous Waikiki Beach, lots of food options, high end shopping, and night life.
But if you don't like all that hubbub, don't worry – we typically shy away from the crowds and nightlife, and we still absolutely love Oahu. As you drive out of Honolulu and up the east coast of the island or to the northwest, you'll encounter less packed beaches, and a more relaxed, small town feel. Be sure to spend some time exploring away from Honolulu to see what these less touristy areas have to offer. Personally, we love Kailua due to it's reserved feel, local shops, and amazing beach (Lanikai Beach, see below). Don't forget to make your way to the North Shore to see (or ride!) the acclaimed big waves that have inspired countless surfers around the world.
In addition to the impeccable weather on Oahu (simply nice and warm, not overly humid or boiling hot), you will take in lush tropical landscapes almost anywhere you look. Even simple drives across the island are so green and scenic, illustrating just how special a place this island really is. As you're cruising with these epic backdrops on full display, you'll realize that nothing is too far of a drive on Oahu which makes seeing tons of stuff really easy while on vacation. However, the island is also large enough to avoid that "cabin fever" feeling, allowing you to see all the island has to offer or simply enjoy your favorite spots and ignore the rest. Something like Baby Bear's porridge: just right for a weeklong vacay.
BEST OAHU BEACHES
Odds are, you've come to this little dot in the Pacific to get your fill of sand and sunshine. Oahu has you covered with a full supply of unreal beaches and inviting waters. Each beach is different, so think about what you're looking for. Beachside drinks? A secluded spot away from the tourist flocks? Sunset views to close out the day? Have a read below to get our take on Oahu's best beaches and an idea of what to expect when you touch down and get your toes in the sand.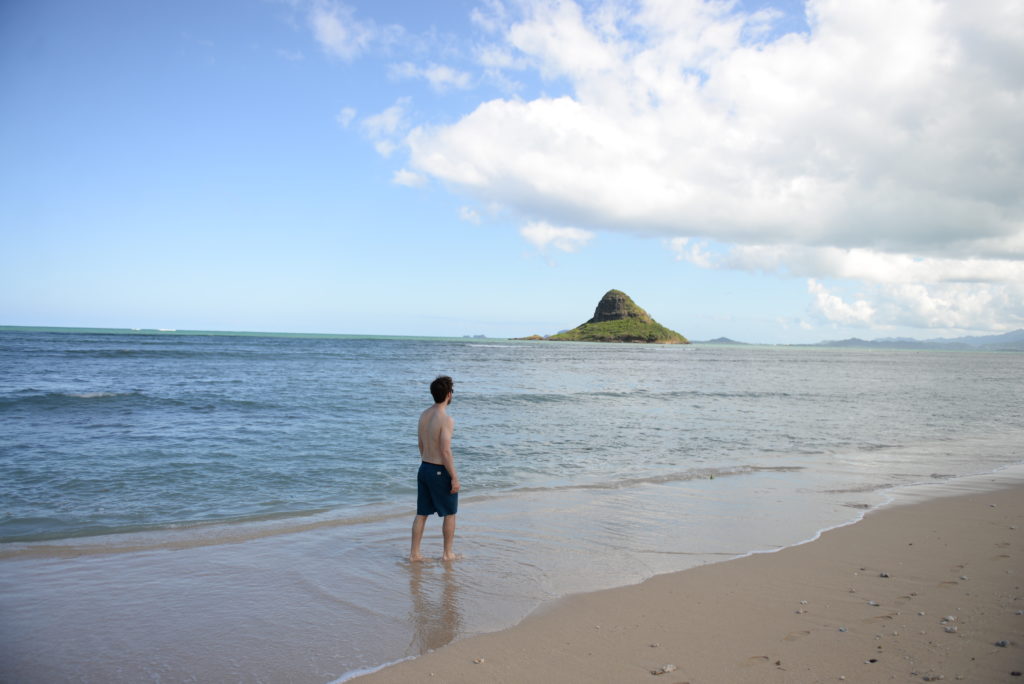 Kualoa Regional Park (the scenic island referred to as "Chinaman's Hat" or Mokoli'i is just offshore)
Sandy Beach (windward side of the island) – Soft sand and big waves, great for body surfing.
Waimanalo Beach (windward side) – A long stretch of white sand, without tons of tourists.
Kahana Bay Beach Park (windward side) – Less touristy, beautiful green peaks rising from the shore, and calm waters great for swimming or SUP.
Shark's Cove (North Shore) – Good for snorkeling.
Lanikai Beach (windward side) – Our favorite beach. The sand is so soft, and the turquoise water is picturesque and warm… perfect for a lazy day spent lounging or catching the sunrise.
Waikiki Beach – Although it's packed with people, you've still got to check out this world-renowned place! Think of South Beach or a Vegas-like bustle!
Waimea Bay (North Shore) – There's a big rock just offshore that attracts beachgoers for cliff jumping, but if that's not your jam it's fun just to people watch or bodysurf the huge waves!
Kailua Beach Park – In a quaint town that we really enjoy.
Ala Moana Regional Park (Honolulu) – Close to Waikiki, this beach is protected by a reef which delivers calm waters, great for SUP.
Hanauma Bay (southeastern Oahu) – Good for snorkeling, but it can be super busy so get there early. Closed on Tuesdays and parking is limited.
Halona Beach (windward side) – Near the blowhole, where you can watch water rocket skyward through a lava tube.
Sunset Beach (North Shore) – The name says it all. Great for scoping the sunset.
Makapu'u Beach and Tide Pools (southeastern Oahu)
Banzai Pipeline (North Shore) – Watch the swells come in at this legendary landmark.
BEST OAHU HIKES
If you have followed along with our typical Vancouver weekends, you know that whether it's summer or winter, we thrive on hitting the trails for day hikes and backpacking trips alike. When you're on vacation in Oahu there is simply so much to do, so it's only natural to feel like you've got to take full advantage of every second of your hard earned vacation time. So we get that you might not want to sacrifice a full day to do a long, potentially muddy trek and totally wreck your body physically. However, we usually try to do at least one semi-long hike to satisfy our outdoorsy itch and balance our time on this lovely isle, and it's always so worthwhile to spend some time climbing up from the sandy shores to be treated with breathtaking views from atop Oahu's lush tropical features. Here we've put together a couple of our favorite hikes, and numerous more that our friends have suggested and will have to wait until future return trips!
SHORT HIKES
Koko Head Crater – 1,050 steps up old railroad ties to sweeping views.
Koko Crater Arch
Kuliouou Ridge Trail
Manoa Falls
Diamond Head Trail
Lanikai Pillbox Hike – Best done at dusk or dawn.
Mariners Ridge Trail – Closed.
Pink Pillbox Hike
Makapu'u Lighthouse Trail – Fully paved.
DAY HIKES
Olomana Trail – Beautiful scenery and panoramic views, this one is a must.
Wiliwilinui Ridge Trail
Crouching Lion – Treat yourself to stunning views of Kahana Bay.
Makapu'u Tom Tom Trail – Closed.
Pali Notches Trail – Closed.
Stairway to Heaven – Closed.
BEST OAHU RESTAURANTS
It's safe to say that foodies will not go home with an empty stomach on Oahu! Fresh, flavorful ingredients abound and we really appreciate the simplicity of many of the dishes we tasted here. From traditional Hawaiian fare like shredded Kalua pork and lomi salmon, to tasty Japanese cuisine like udon noodles, to Vietnamese bahn mi, we would be quite happy eating here every day. Seriously, it's so good! And if you love seafood, you just might never leave this place. Poké is our absolute favorite, and we had quite the adventure trying to find our favorite ahi poké on the island. There simply aren't enough meals in a week to try everything, but take a gander at our faves to start planning your future feasts!
WAIKIKI AREA
Matcha Stand Maiko – Matcha soft serve, need I say more?
Musubi Cafe Iyasume – Voted one of the best places to eat by Honolulu magazine, this spot has an array of fresh musubis!
Banan – Frozen yogurt.
Ono Seafood (for poke) – We love fish, sushi, and poke. Being from Vancouver, we know we're spoiled with the freshness of the fish, and we are admittedly picky with our tastes because of it. So, we went to Ono Seafood with a discerning poke palate. Verdict: whoa! We were absolutely blown away with their fresh and flavorful poke. Safe to say it's the best we've ever tasted! It was so good that we planned our schedule around making a couple return trips to savor their amazing shoyu and spicy ahi. Do not miss this must.
Liliha Bakery – For Poi Mochi Donuts and cream puffs.
Olive & Oliver – For coffee served in beautiful printed cups from local artists, located in the Surfjack Hotel.
Arvo Café
Mai Tai Bar at the Royal Hawaiian – If you're making the tourist rounds at Waikiki Beach, grab a Mai Tai during sunset and listen to live local music at this relaxing outdoor bar, just steps from the beach.
Duke's Waikiki – For a drink and to experience the Waikiki vibe.
Thyda's Tacos – This little taco cart dishes up serious flavor, and the owners are super friendly.
Paia Fish Market – Located below The Laylow.
Paris Hawaii
Morimoto Asia
Moku Kitchen
Shirokiya Japan Village Walk – Located within an upscale mall, this place might just blow your mind. Describing this as a Japanese food court would be a huge understatement. It's a small city of 30-plus Japanese restaurants serving literally every style of Japanese fare, complete with a live stage. It's quite the experience.
Mahina & Sun's – Known for it's seafood, but they also serve up delicious pizza and cocktails (in the Surfjack).
NORTH SHORE AREA
Giovanni's Shrimp Truck – If you have heard people say you've got to eat the shrimp on the North Shore, they are probably talking about Giovanni's. Grilled shrimp slathered in garlic butter on a bed of rice is our fave, served up at this roadside seafood dive. There's always a bit of a line, but you've got time to chill at this North Shore staple.
The Sunrise Shack – Need a healthy snack after all those Mai Tais? Don't miss this tiny yellow roadside shack on the North Shore. It delivers fresh smoothies and açaí bowls that are so flavorful it's hard to believe they're actually healthy.
Kahuku Farms – We came for the fresh lilikoi sorbet ice cream served out of a papaya, but this spot also has fresh food straight from their farm.
Matsumoto's Grocery Store for shave ice – It's "shave" ice, not "shaved" ice. Light and fluffy ice drenched in tropical flavors is a favorite treat in Hawaii. We tried this popular North Shore joint, and loved their Ichiban combo – it comes complete with vanilla ice cream, red beans, and mochi. So good. Disclaimer: we're not shave ice experts, but skip this treat if you're not in the mood for a syrup-y, sugary treat. If sugary isn't your fave, try Wailua Shave Ice on Kauai. They stick to basic juices rather than syrups on their shave ice.
Dole Whip at the Dole Plantation – Even if you're not into doing the uber-touristy tour and maze, you can still make a quick stop to grab a cone of the sweet, refreshing Dole Whip to try the local original.
The Beet Box Cafe
Hukilau Cafe
KAILUA AREA
Island Snow
Kalapawai Café & Deli
Kono's – Amazing Kalua pork. Get their old school sandwich.
Nalu Health Bar & Cafe – Acaí bowls and healthy yet tasty sandwiches and wraps.
CHINATOWN
The Pig and The Lady – Like Vietnamese food? Visit this acclaimed Chinatown spot to get some flavorful pho or try their pho French dip. We challenge you to find a more savory, delish sandwich than this 12 hour slow roasted beef brisket on a toasted baguette topped with spicy hoisin and Thai basil chimichurri. Beef pho broth for dipping? Say no more.
Maguro Brothers
O'Kims – For Korean fare.
Chau's Fresh Fruit – When it's hot, the simple thought of a cold drink is hard to shake. Fresh and rejuvenating tropical fruit smoothies and juices like lilikoi, papaya, taro, and even durian at Chau's are so good.
AROUND OAHU
Piggy Smalls – Serving up Asian fusion dishes like pho, lettuce wraps, and my personal favorite: the "Wrap Battle". It's meats and seafood (or veggies), vermicelli, herbs, sauces, and lettuce to wrap up all these goods, which is a dish best enjoyed by sharing with friends. Also, give their seasonal soft serve ice cream a shot.
Leonard's Bakery – If you've got a sweet tooth, don't miss the malasadas at Leonard's. These hot and crispy on the outside, chewy and fluffy on the inside Portuguese doughnuts have just the right amount of sugary goodness for a nice dessert or treat.
Helena's Hawaiian Food – Family-owned and open since 1946, get your taste of authentic Hawaiian food at this long-standing community eatery. We loved the simple, modest atmosphere, family feel, and sharing a combination of Hawaiian faves like Kalua pig, short ribs, and macaroni salad.
Diamond Head Market & Grill
Ahi Assassins
Foodland (for poke) – If you're on vacay, it's always ideal to enjoy your desired grub in that cool hole-in-the-wall or a nice ambience. If you can't make it to Ono Seafood, don't stress. Foodland, the local grocery chain, actually has really good poke that's available late into the evening.
Kokonuts Shave Ice & Snacks – Obama ate here, so you know you've got to check it out!
Waiola Shave Ice
Puka Dog Hawaiian Style Hot Dogs – Anthony Bourdain checked this place out on his show "No Reservations".
Rainbow Drive-In
Mike's Huli Chicken – As seen on Guy Fieri.
Koko Head Cafe – It's only open for breakfast and brunch, so go early! As seen on Food Network.
Mi Almita Cantina – For tacos!
Liliha Bakery
Heavenly Island Lifestyle – For breakfast.
Haleiwa Joe's Haiku Gardens – A perfect spot to sit down for a nice dinner and a couple cocktails at this lovely indoor/outdoor space with beautiful gardens.
Island Vintage Coffee
Maui Brewing Co. Waikiki
da Cove Health Bar and Cafe – We went here for amazing acaí bowls and some light sandwiches.

PLACES TO STAY IN OAHU
Airbnb – Located about 25 minutes outside of Honolulu, this spacious Airbnb in a calm neighborhood setting offers a relaxed vibe and beautiful panoramic views of the Koolau Mountains right out the back door. Located right by the Ho'omaluhia Botanical Garden. A highly recommended accommodation.
The Laylow, Autograph Collection hotel – Get the convenience of Waikiki, hip and stylish vibes, and a secluded feel located above street level in The Laylow. The Hideout, their patio restaurant, is the perfect place to relax and grab a drink after a long day at the beach.
The Surfjack: This place has some character. Our suite transported us from the Waikiki streets and into our own little open-air beach house. We loved it.
Alohilani Resort Waikiki Beach – This beautiful resort offers a breathtaking infinity pool with otherworldly sunset views. Splurge for a poolside cabana and you won't be disappointed.
OTHER OAHU SIGHTS AND THINGS TO DO
Snorkel at Hanauma Bay
China Walls for sunset photos and cliff jumping (or watching people cliff jump if that's not your thing).
Zipline at Kualoa Ranch
Makapu'u Tide pools
Ka'ena Point Tide Pools
Cockroach Cove
Cliff jump Laie
Learn to surf on Waikiki Beach
Ho'omaluhia Botanical Garden
The Royal Hawaiian hotel – Stay at this iconic pink resort or grab Mai Tais at their outdoor bar.
Diving
Nu'uanu Pali Lookout
Pearl Harbor
Waimea Bay
Waimea Valley – You have to pay to enter, but you can swim in waterfalls where scenes from Lost were filmed!
The chill town of Kailua, which is home to the amazing Lanikai Beach
Halona Blowhole
Valley of the Temples
Hilton Lagoon
Shark's Cove for snorkeling
Sunset beach on the North Shore
Banzai Pipeline
Chinatown – Lots of flower shops and fresh fruit stands.
Aloha Stadium Swap Meet (Hours: Wed/Sat/Sun, 8:00am – 3:00pm)
The Byodo-In Temple in Kaneohe
Waiahole Poi Factory in Kaneohe
SUP OR KAYAK
Mokulua Islands ("The Mokes") off of Kailua Beach and Lanikai Beach
Chinaman's Hat (Mokoli'i) off of Kualoa Regional Park in Kaneohe
Maunalua Bay
Ahupuaʻa ʻO Kahana State Park for mellow waters
Ala Moana Regional Park – Near Waikiki, this beach is protected by a reef so the waves are calm.
DID YOU ENJOY THIS POST? PIN IT FOR LATER
YOU MIGHT ALSO ENJOY