Toronto city guide: where to stay, eat, and sight-see
Vibe of the city
It may come as a surprise, but we had never been to Toronto. After all these years, we knew it was finally time to get a taste of the city that we had heard so much about. T-Dot, T.O., The 6ix – whatever your favorite moniker, visiting the most internationally known city in Canada was long overdue for the two of us and the warm summer months just felt like the perfect time to criss-cross the city on a carefree adventure. Maybe it was because we had built it up for so long in our minds, but we were actually quite surprised when we stepped off the plane and got a feel for the city.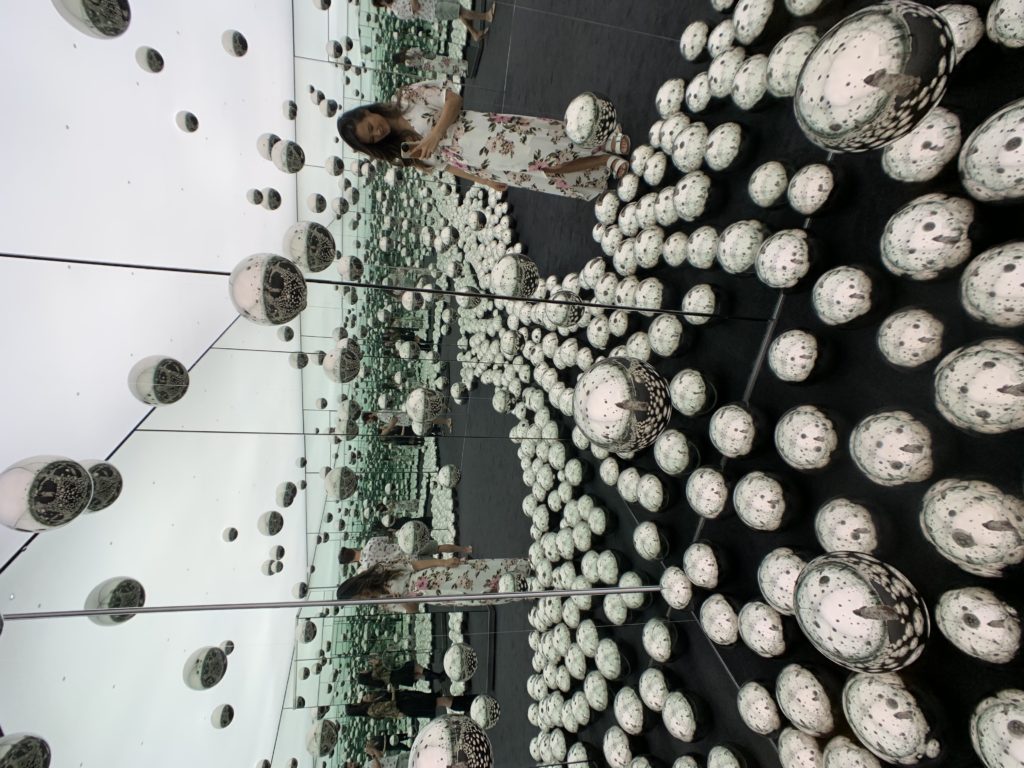 Big cities, small towns, away from civilization itself – we find aspects of all that we love. So as we planned for our trip to Toronto, we anticipated that we'd drop into that NYC buzz and commotion. What we found was a little different. Although Toronto is one of the largest cities in North America, to us, it felt more like a bunch of neighborhoods that bleed into one another rather than a Goliath-like metropolis. And we loved it.
Each area that we explored in just under a week gave us a little looksy under the hood of just exactly what makes this place tick and why people rave about it. Here are 3 reasons why we loved Toronto.
Accessibility. Whether we hopped on the numerous bike routes or grabbed a Lyft, it felt like we were never on the move for more than 20 minutes before we arrived at our desired spot. This is great when you're trying to pack in as much as possible in a new city.
Great food. We absolutely loved the variety of amazing food we sampled in Toronto. Whether it was tasty Thai, tacos, late-night Jamaican-Chinese fusion, or a Nicaraguan gem, it's obvious to us that the city's multicultural roots provide residents and travelers alike with a plethora of awesome dining options.
Culture and art. There are so many museums that you simply won't have enough time to check them all out. Our fave: the art and architecture found in the lovely AGO (Art Gallery of Ontario).
Keep reading to check out where we stayed, the best restaurants in Toronto, and our favorite sights to see in the city.
Where we stayed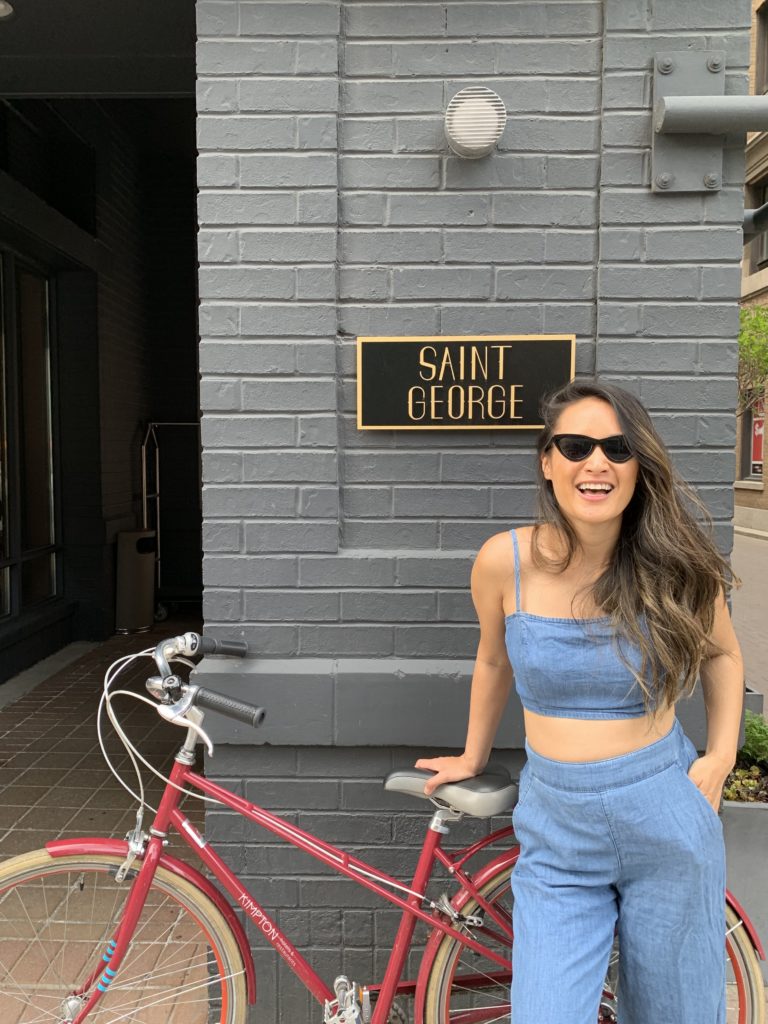 Kimpton Saint George hotel
We heard about the Kimpton hotels from family who recently stayed at one in Seattle. After chatting with them and doing some research online, the unique design elements of each Kimpton hotel and their connection with the local culture were really appealing to us. With that, the Kimpton Saint George seemed like a promising place to call home for a week.
Why we loved it
Some people avoid hotels these days because of the predictability of the look and feel of the traditional hotel experience. We can safely say we were absolutely blown away on all fronts at the Kimpton Saint George. When we stepped through the doors on a Saturday evening, we were quickly made aware of the little extra details they put into your experience. Every night from 5-6pm it's social hour – this means grabbing a complimentary glass of wine, snacks, and chatting with other travelers. We thought this was a great idea, and made us feel welcome from the start.
Now let's talk about the looks and feels of the hotel itself. A mix of dark greens and blues, white, dusty rose, and wood created a unique and stylish design that was very calming and relaxing. We really liked the high ceilings in our suite (probably 11 feet!), the lobby, and the hallways, as well as the consistent use of arches throughout the building. From the wood arches in the lobby to the white arches of the halls, the design throughout the spaces was very consistent and pleasing, and it always felt like there was plenty of space while still remaining cozy. A tough combo to pull off, but they did it great.
For our stay, we called one of the suites home. We were amazed at how spacious it was – from the living room with its L-shaped sofa, a cocktail bar area, and the large bedroom with a beautiful wardrobe, it truly felt like an apartment rather than a hotel room. We seriously wish we could live here permanently! Just like the simple but thoughtful daily social hour, we noticed a couple other touches in the room and the hotel in general that really put this place over the top for us. They incorporated local Canadian artists' works into the rooms and spaces, which really gives the place a connection to the local community. Not only did the suite have a beautiful record player, which was a lovely touch, but they also stuck with the Canadian theme by including a broad selection of records from all Canadian artists. Ours included a wide sampling from Leonard Cohen, to Joni Mitchell, to The Weeknd. Pretty sweet. Although we would've been satisfied staying close to the hotel to check out all the local sights in The Annex and Bloor-Yorkville neighborhoods, they have free bike rentals. This was amazing for travelers like us, as it enabled us to easily access all parts of the city. So clutch.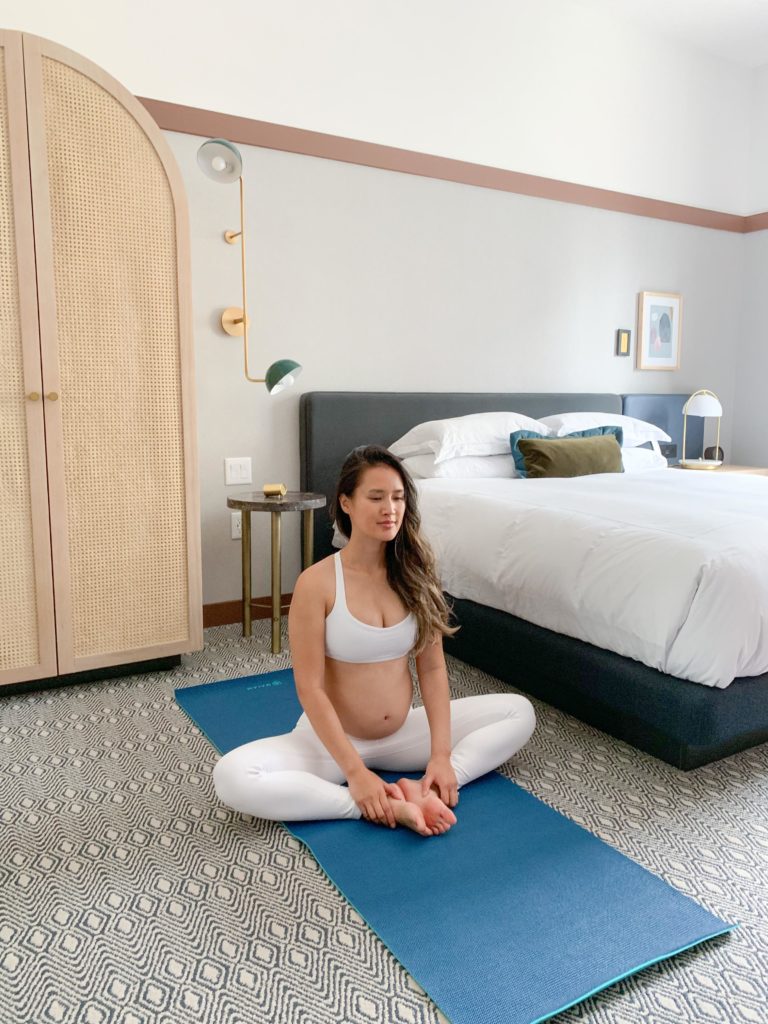 Last but not least, fitness is a major priority for us. We love exploring new cities, but sometimes it's hard to maintain your typical fitness routine. Not here – they've got a fully equipped gym (dumbbells, kettlebells, cables, treadmills) and a yoga room which were just what we needed. Not up for hitting the gym? The rooms have yoga mats so you can get in a quick practice in your room without lugging around a bulky yoga mat on the plane. So thoughtful.
Overall, we would HIGHLY recommend staying at the Kimpton Saint George Toronto! The stylish digs and genuinely nice staff were just what we needed for an amazing getaway, and the neighborhood provides a convenient launch pad to explore what Toronto has to offer.
After concluding our first stay in Toronto, the combination of the friendly people, myriad things to do, and seriously tasty food left us yearning for a return trip because there just wasn't enough time to check everything off our to-do list.
If you're like us, we love getting suggestions from others to compare notes and get us started when planning a trip. So, below we've included lists of our favorite Toronto restaurants, best Toronto sights to see, and even some of the best yoga studios Toronto has to offer (if you want to burn off a few calories and stretch it out from all the traveling!).
Best restaurants in Toronto
Here is a quick breakdown of our favorite places to eat in the city. We were super impressed with the amazing variety that Toronto boasts.
Momofuku – this noodle joint was really tasty. We took a flyer on the "Extremely Spicy Noodles" and, they were. To follow your meal with something sweeter, we'd suggest getting some soft serve ice cream from Milk Bar, which is a cute dessert and bakery shop located just upstairs.
Rosalinda – a vegan Mexican restaurant set in a greenhouse-like space full of plants, high ceilings, and light. We went with the multi-course lunch and we were absolutely stuffed. We loved the crispy tofu and rice bowl. So good.
Patois – ever had Jamaican-Chinese fusion? We doubt it. So many flavors at this spot. We really enjoyed the crispy brussels sprouts and jerk chicken chow mein. Yep, you read that right.
Seven Lives – who doesn't love tacos? We'd suggest rolling up right at noon when they open because the line stacks up fast. We had two tacos apiece and they were HUGE!
La Carnita – we barely made it inside before the kitchen closed, but the tacos still hit the spot. The unique brick building and relaxed vibe created a nice atmosphere to chill and grab dinner.
Pai – this Thai spot appears as though it's a small basement hole-in-the-wall until you open the door and realize it's massive. Their pad thai and khao soi did not disappoint. 
Khao San Road – can you tell we like Thai food? Their green curry was right up our alley. Bonus: the tiki-style Bang Sue Bar upstairs was a great spot to grab a drink while waiting for a table to open up.
More Toronto restaurants to check out:
Best sights to see in Toronto
Whatever you're into, the city has so many choices to hit what you're hankering for.
Art Gallery of Ontario (AGO) – this gallery was our absolute favorite! The winding wood staircases, diverse exhibitions, and Yayoi Kusama's Infinity Mirrored Room were superb. 
Royal Ontario Museum (ROM) – does the stunning facade not draw you in! Enough said!
Ripley's Aquarium of Canada – if you love aquatic life, check it out! The underwater tunnel serves up face first encounters of numerous sharks!
CN Tower – the lofty perspective you need to catch some amazing panoramic views of Toronto.
Toronto Islands – unfortunately we didn't have quite enough time to make it out here on our trip, but next time the first thing we'll do is hit the water on kayaks for a prime view of downtown. 
Hockey Hall of Fame – Canadian enough for you? Check out loads of hockey memorabilia and even touch the Stanley Cup!
More Toronto sights to see:
Grab some bikes to easily move around the city
The Beaches – for SUP