Best Oahu hikes: the Olomana Trail
Where: Kailua – Oahu, Hawaii
Distance (round-trip): 8 km (~5.2 miles)
Elevation Gain: 550 m (1,814 feet)
Time (round-trip): 4-5 hours
Difficulty: Intermediate
The Olomana Trail on Oahu, Hawaii is the perfect hike to break away from the tourists and experience the amazing tropical landscape. Embrace the mud, rocks, and lush green tropical rainforest and enjoy panoramic views of the best that Oahu has to offer.
The island of Oahu is absolutely stunning. Sure, the beaches and perfect temperatures are obvious, but what makes this place so gorgeous is its combination of size and diverse geography. You can be in the heart of Waikiki for breakfast and then jaw-to-the-floor before lunchtime as you digest the full power of those gigantic North Shore waves. The same goes with the geography of the island itself. After hitting the coastal sand, a 30-minute drive can take you to the base of those stereotypical Jurassic Park peaks and lush green views.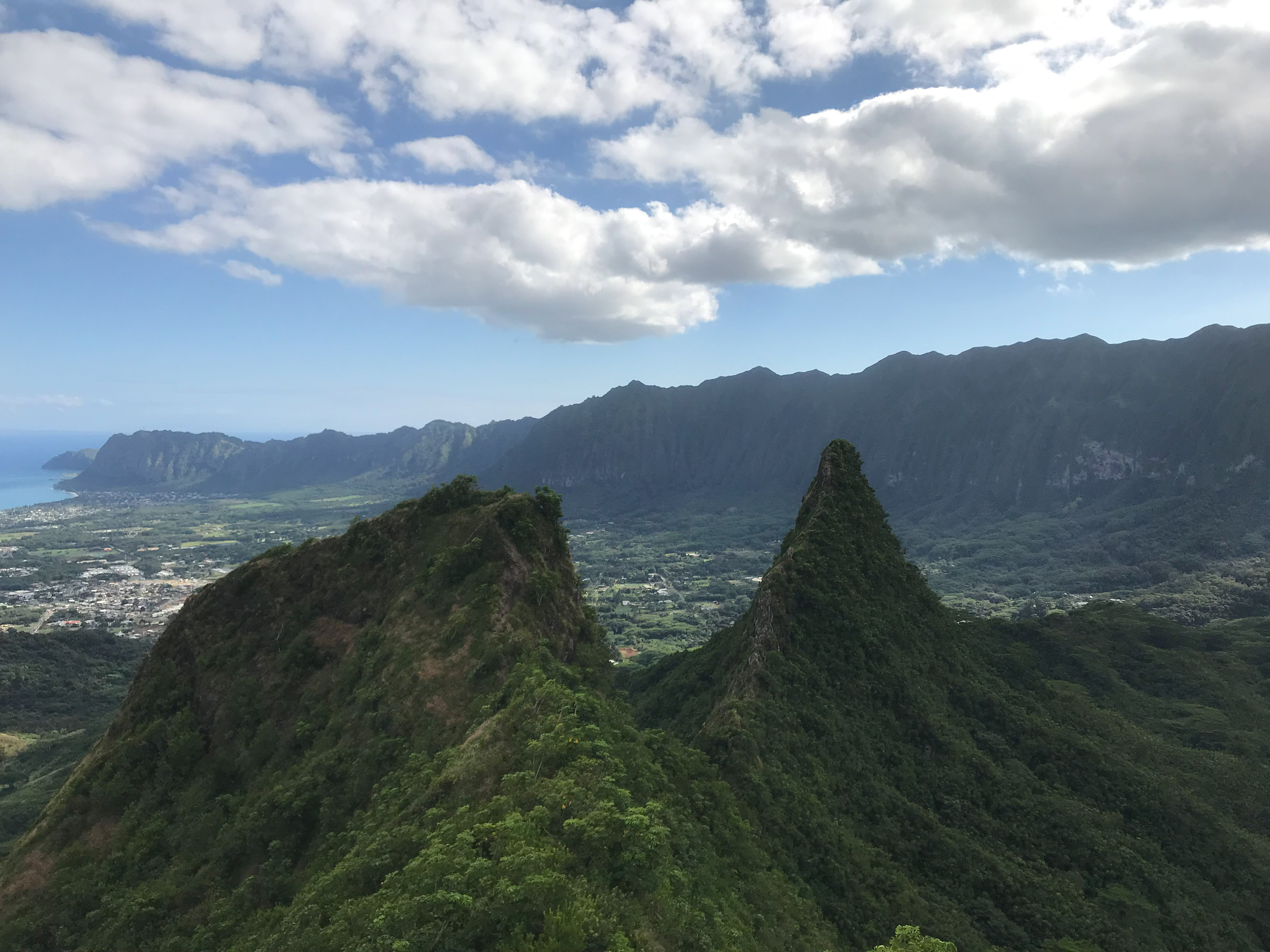 If you're on Oahu for a short vacation, there's a chance you'll probably want to take a break from the beaches and boozing for at least one day to get a workout and see some of those tropical forest backdrops. The Olomana Trail is perfect for a couple reasons: 1) there won't be a ton of tourists there, 2) you'll take in absolutely amazing views, and 3) although you'll get a nice workout, it won't take you all day. I guess you'll have time to keep that booze flowing by night after all.
Getting to the trail itself is a bit tricky, but we checked out the AllTrails app for the nitty gritty location details. It worked great. Once you're at the trailhead, you won't be in for those epic views quite yet. Before you conquer 1,800+ feet of elevation to reap sweeping views, you'll begin in a wet, muddy tropical rainforest. Get ready for some squishing and sliding, as you meander your way up through mud, standing water, and exposed red clay. Even if you take a spill, it's all good. It will still be super warm and the rainforest scenery is nothing to sneeze at!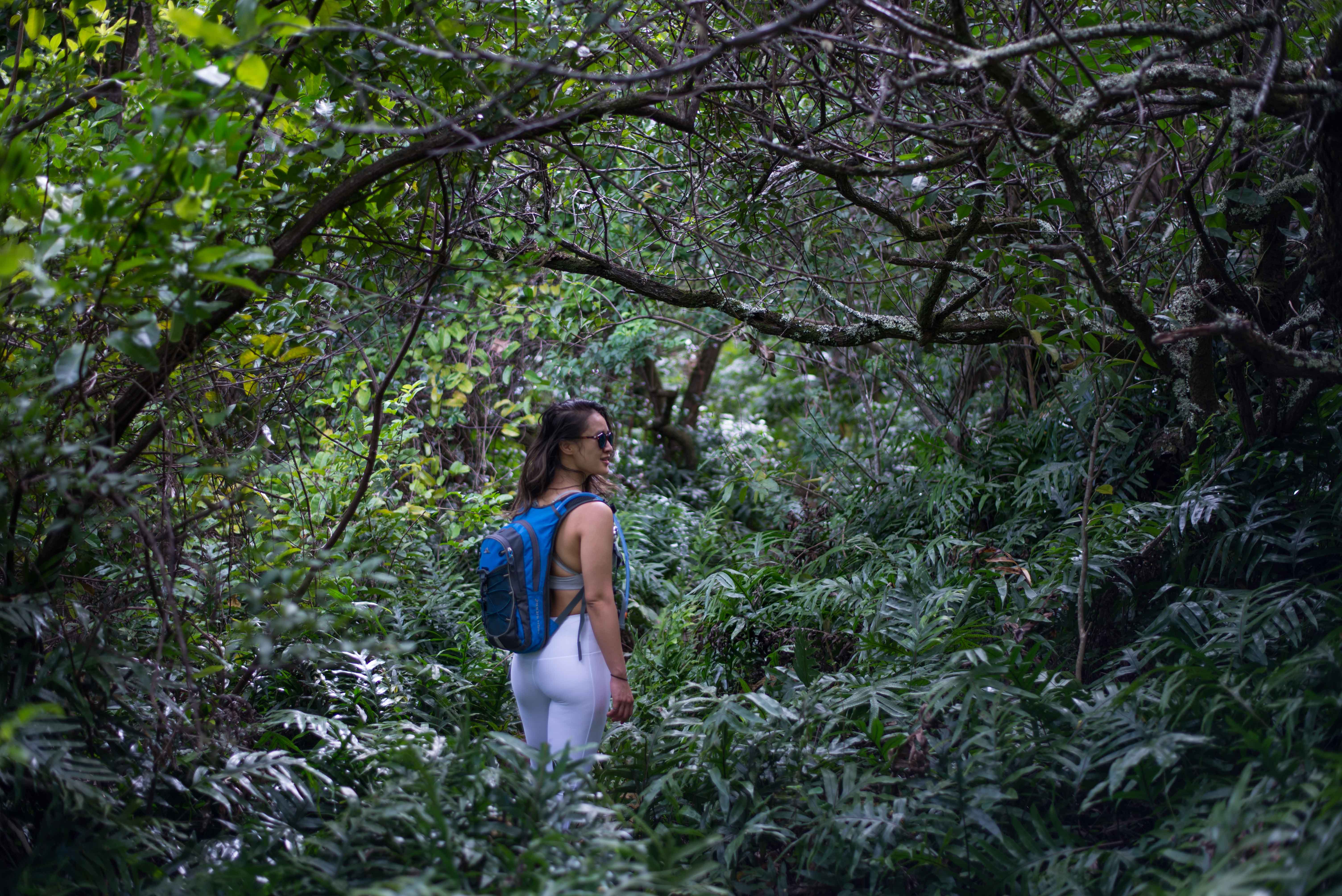 Keep hiking on, and the trail continually ascends. As the altitude increases, the surroundings become progressively more exciting! We loved this transition from mud to lush greenery and drier ground as we emerged out of the forest and onto a dry ridge that heads directly toward those three breathtaking peaks. At about half way to our final destination, I'd say we were pleasantly surprised that we still had a full tank of gas left to make it to the summit. We are no endurance buffs, but at this stage we still felt fresh. The difficulty level so far was nothing more than intermediate.
When you emerge onto this ridge, you'll catch occasional peeks of the distant ocean through branches of new tree species, slowly giving way to knee-high foliage and less cover. Now the fun part, or stressful part, depending on your skill set. Boulders, ropes, and climbing. Now let's be clear, you won't be doing any actual rock-climbing, and any avid climber or boulder-er can yawn their way to the top. But you will have to muscle your way up a few steep rock walls and use ropes to scramble up and down some slippery terrain.
You're there. After powering through those boulders and rocks with hands and arms muddied up, you will emerge onto an exposed peak with absolutely awesome 360-degree panoramic views! Lush, green tropical rainforests and peaks in one direction, open blue ocean in the other. It's a great perspective, giving you a nice perch to fully drink in the beauty of this impressive island. Okay, this is the first peak. Here is where you've got to take the pulse on your adventure level. There are three peaks in all, each requiring progressively more tolerance for danger to conquer. If you're a little squeamish, no sense in pushing further. We decided to press on and head for peak number two.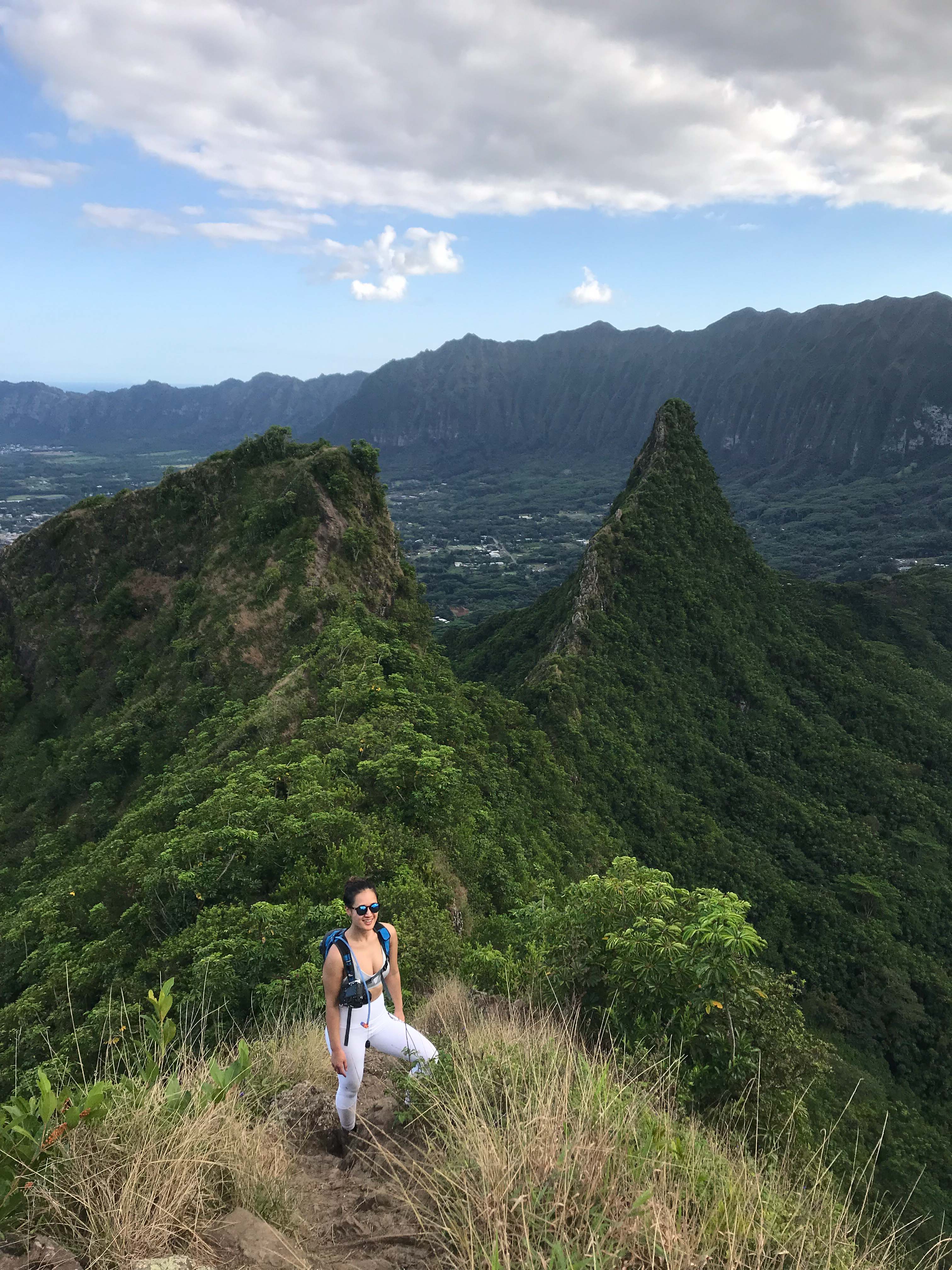 Full disclosure, our tolerance for danger is a mixed bag. I won't name names, but we are a balancing act: one of us is always down to push it, the other more measured in their moves. And by measured, I mean a scaredy cat. Lol. The short descent and climb back up to the second peak wasn't bad at all though. And that's both of us talking. Sure, there are some steep drop-offs, but it didn't even trigger the scared one's fear of heights. The second peak's views? Absolutely worth it. It's a safe bet that the majority of the pictures you saw online drawing you to this majestic spot are from the second peak, with that ridiculous green-covered crag in the background. That's the third peak. Do you think we went to conquer it too?! Not today haha! We called it good at this impressive pedestal.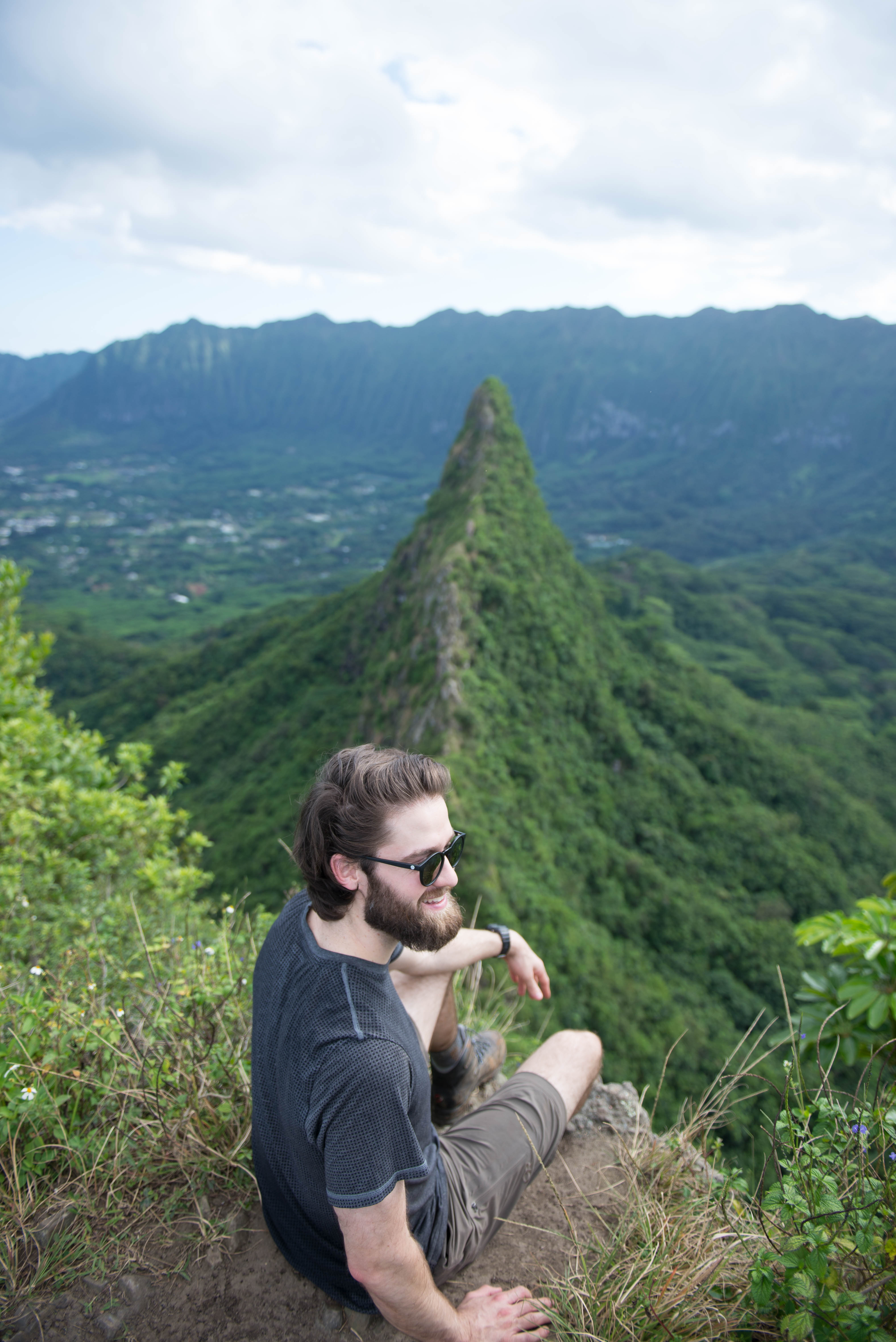 Whether you decide to push on or turn back, the natural podium of the second peak makes it an ideal spot to rest or eat lunch. As we chowed down, we were pleasantly surprised with how friendly the other groups of hikers were. We've done our fair share of hiking, but I'd say this was the most outgoing, welcoming group of hikers we've run into. Just about everyone we met were locals, curious to chat and share their favorite local spots and hikes. One local group even invited us on another hike with them! Talk about some hospitality right there! Before departing from the second peak, be sure to turn around and gaze toward that calming ocean. You can even catch a glimpse of one of The Mokes off of Lanikai Beach. Be sure to visit Lanikai for a chill afternoon, we love that place.
As we snapped a couple pics and turned back to call it a day, we could just pick out our new friends looking like tiny ants going straight up a web of ropes to that third and final peak! Whew, scary! And that's coming from both of us, I swear. The final verdict: a really, really nice hike that is definitely worth your time. Counting all the time taking photos, eating, chatting, and dilly-dallying, it took us around 5 and a half hours. But we are confident you could power up to the second peak and back in 3 hours if you really wanted to. One major thing to keep in mind: rain. The day we did the Olomana Trail, it was super sunny and dry. It hadn't rained in almost one week and there was still serious mud at the base of the trail (yeah, I guess it's called a rainforest for a reason). However, if rain is in the forecast, definitely avoid this beauty because the climbing, scrambling, and ropes will be miserable and dangerous.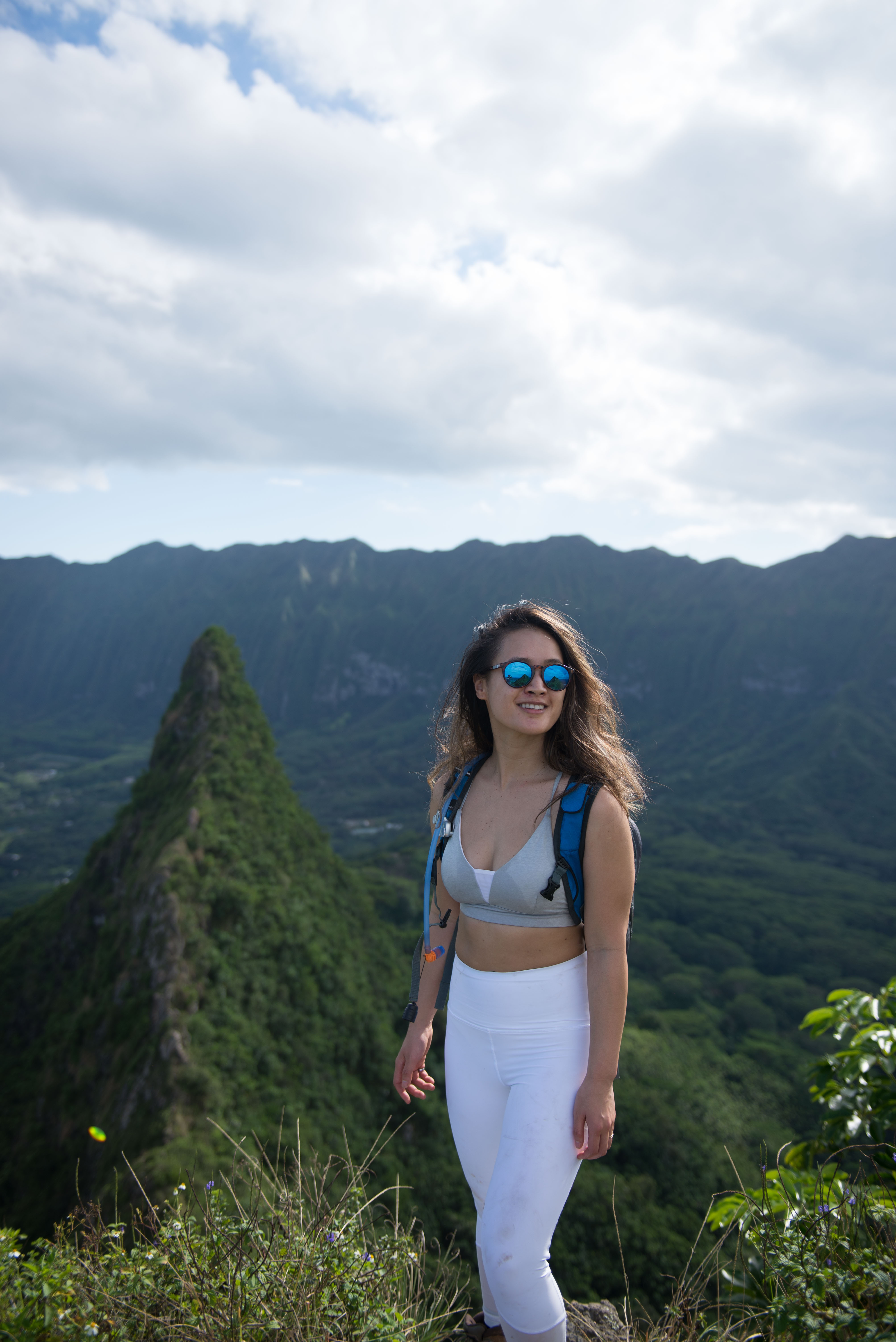 That's all for now, enjoy!