Four Seasons Resort Whistler, British Columbia
Instagram: @fswhistler
Website: https://www.fourseasons.com/whistler/
Location: Whistler, British Columbia
The Four Seasons Resort Whistler is the perfect combination of luxury and adventure. Situated in the fun, unique Whistler community, it provides you with a comfy homebase to relax and explore the breathtaking slopes and summer hikes that are just beyond your door. With too many options for just one trip, your first taste will leave you planning a return to get your fill of this amazing corner of the globe.
The majority of the time, creating an efficient, well-timed plan is key to making the most of your vacation. However, sometimes all that planning can suck the spontaneous fun right out of a getaway. That kind of defeats the purpose of a vacation, right? There are those rare times when you experience that comforting piece of mind, when you realize that accomplishing two simple tasks will transport you far, far away from your worries and straight into vacation mode: 1) pack a bag, and 2) leave the house. Talk about achieving the ultimate exhale.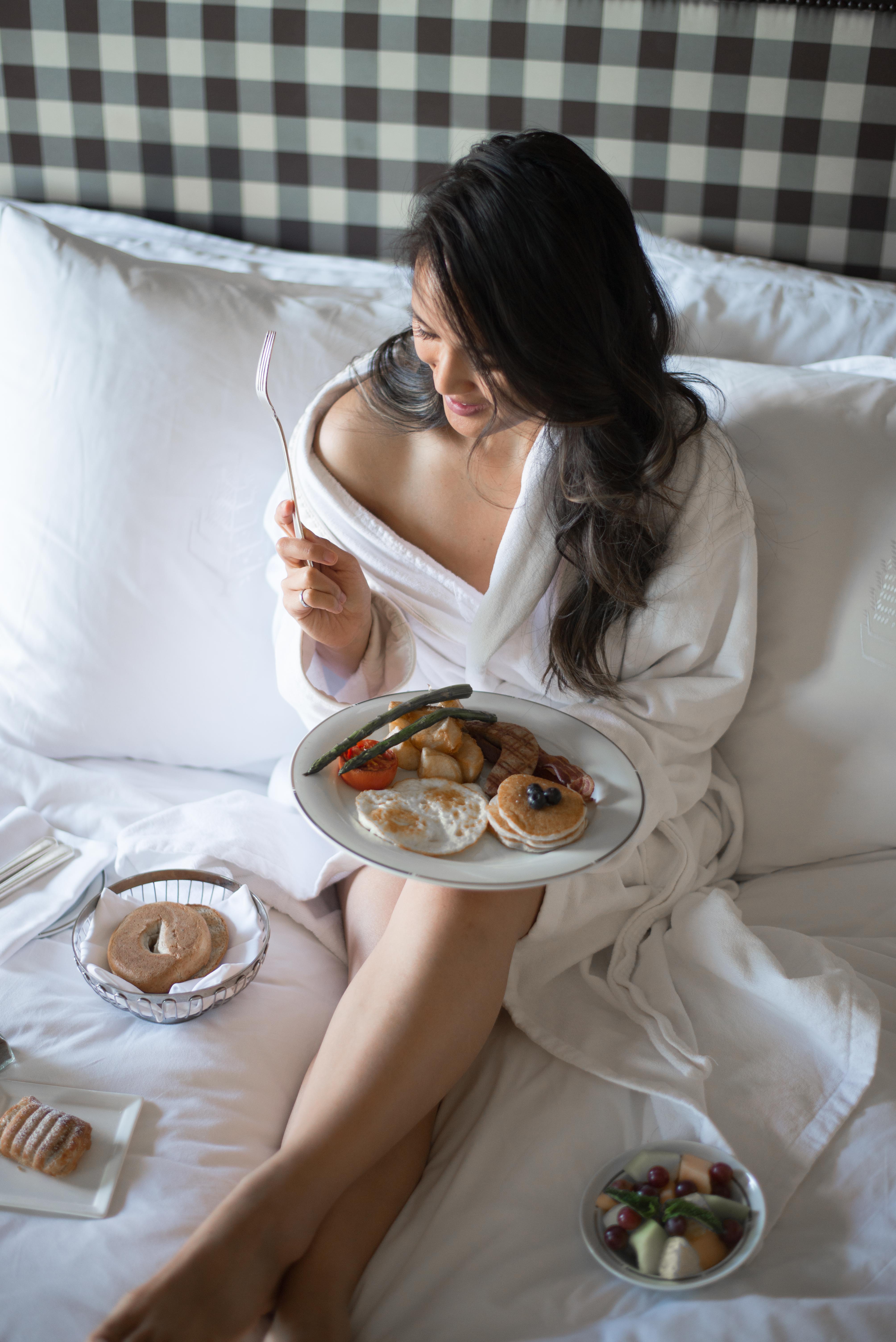 Luxury and breathtaking backcountry views. My guess is that the majority of us would quickly file these away under the heading "mutually exclusive". Well, you guessed it, we recently discovered the exception to this rule with the combination of a luxurious residence located in a remarkably unique destination.
Whistler, British Columbia offers some seriously wild landscapes, regardless of what month sits atop your calendar. From world class slopes and powder in the winter, to hikes culminating in alpine glacial lakes in the summer, the place never fails to deliver. Situated in the fun, friendly community that is Whistler, is the Four Seasons Resort Whistler. From the second we stepped inside, it was obvious that we had made the right choice for a weekend getaway. We arrived on a Sunday night, and the warm, inviting space literally felt like a home away from home. Well, maybe just a tad nicer than our place. After chatting with the amazing staff and getting settled into our room, we realized we made it just in time for the nightly wine tasting. How's that for timing? We've got to be honest – we were almost just as excited that we could sneak in a complimentary snow cone as well!
What to do while you're a guest? We'd suggest one of two routes. If you're aiming to get your dose of nature, you're in the right spot to rise early and hit the slopes or go for a scenic hike. Although Whistler's snowy prowess needs no introduction, we think everyone could use a reminder about just how many beautiful trails call this region home. Whether you hop on Whistler's Peak 2 Peak Gondola and take a tour on the Highnote Trail, or have an appetite to pack in some serious trekking with a short drive to challenging beauties like Garibaldi Lake or Wedgemount Lake, you won't have trouble filling your adventure quota.
Not for you? It's called a vacation for a reason. You will likely want to conquer route number two. Take it slow, and sleep in. Even if you intend on popping out of bed to get an early start, we found this supremely difficult in the ridiculously comfy king bed. Once you're up, why not do it right with a little breakfast in bed? We had to indulge, and it did not disappoint (the fresh juices were delicious!). What's next? Maybe check out the spa or cabanas at the pool before venturing over to Whistler Village to take a stroll while immersed in the unique mountain culture before you meet back up with the adventurous ones in your party.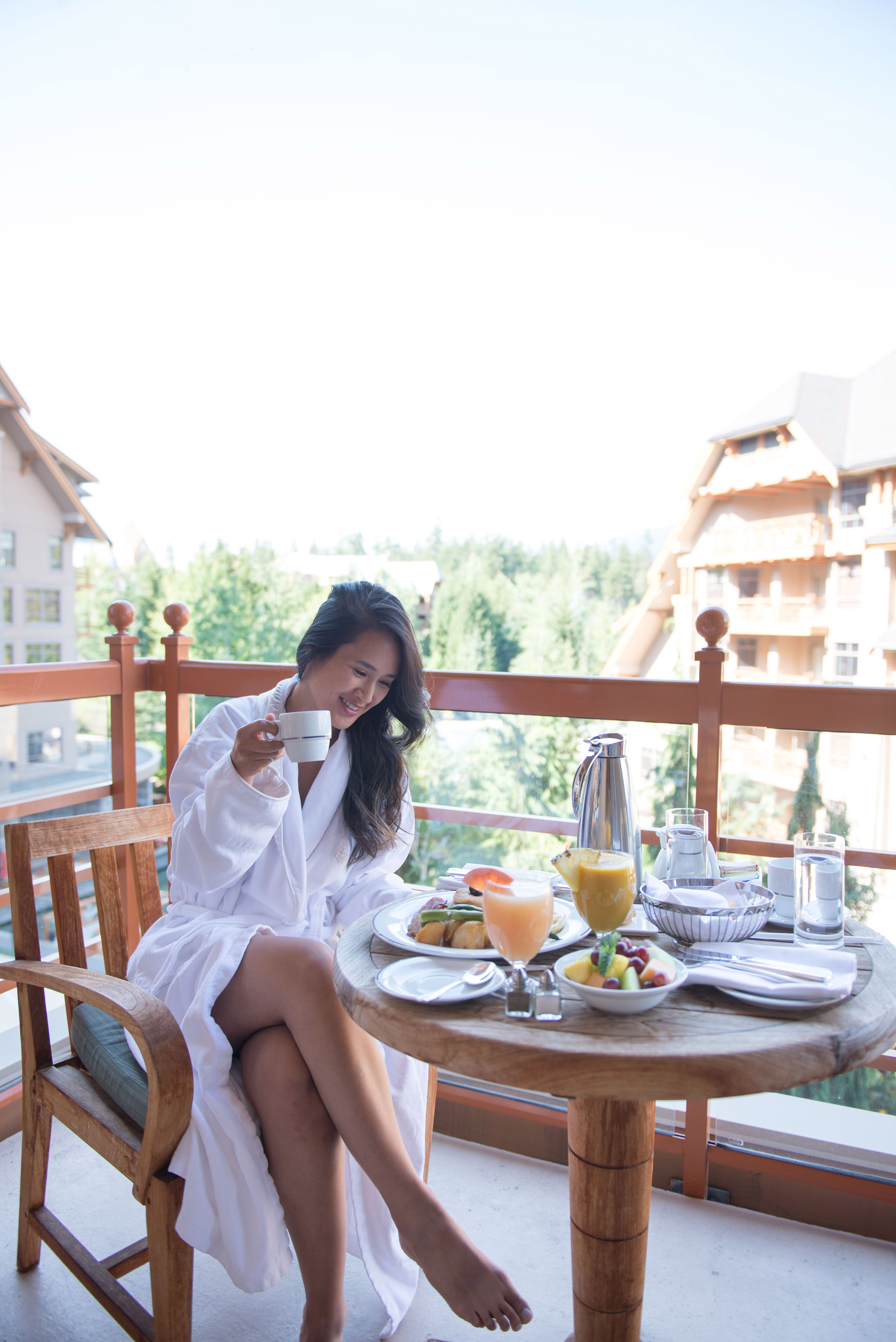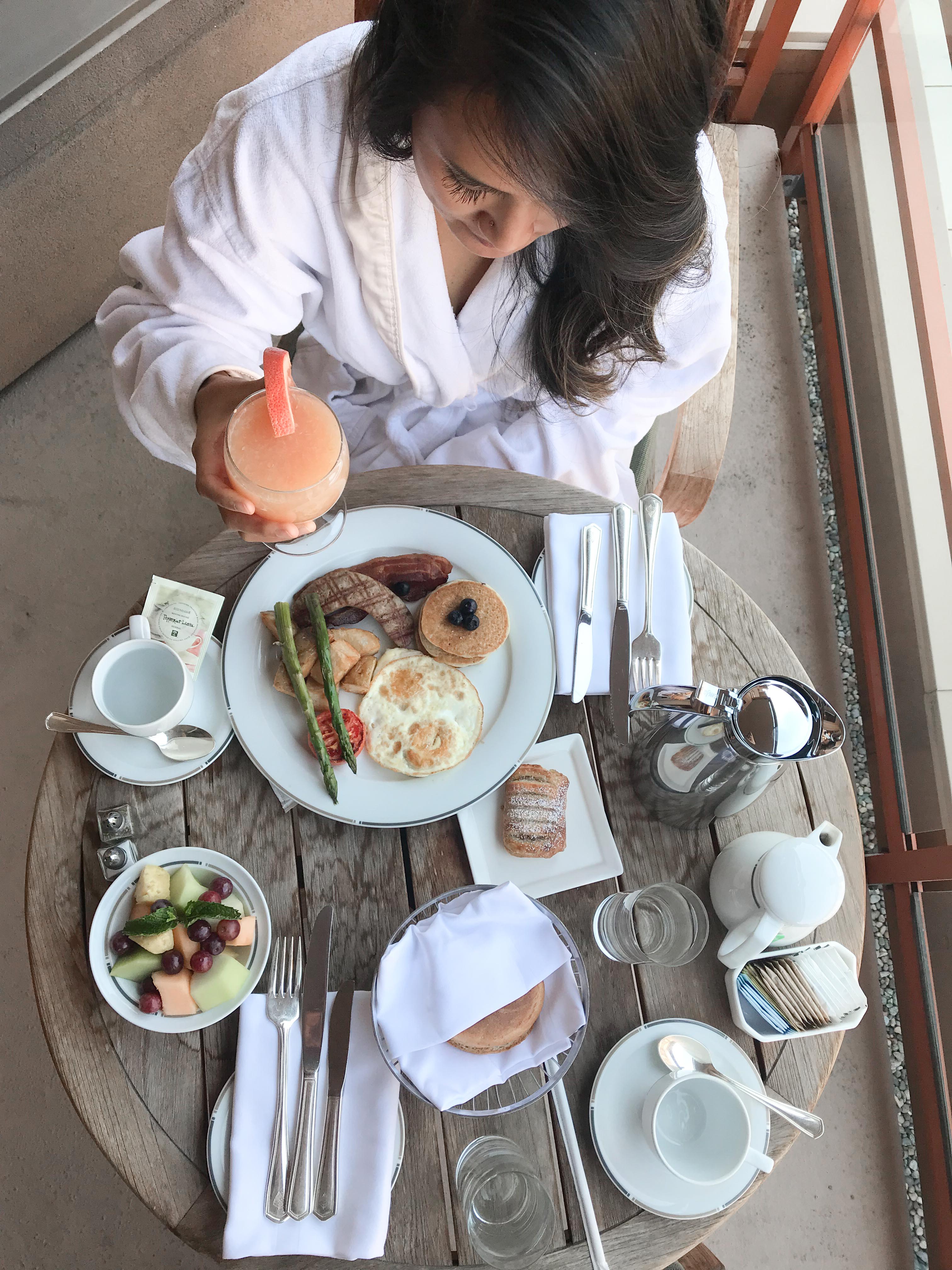 It's hard to pick favorites at the Four Seasons, but an evening relaxing in the amazing outdoor courtyard is tough to top. We absolutely loved the vibe that was set by their new Patio Camper – a cute little camper set up in the courtyard serving local beer, cider, and sangria! After grabbing a beverage from the camper or a curated cocktail from the Sidecut Bar, sink into a comfy seat around the outdoor fireplace, as it can still get chilly even on summer nights. If you happen to be in town on a summer Thursday, their courtyard Beerbq's have become quite the event. A packed house hosts live music, all you can eat barbecue fare, and local brews – not sure how you can top that!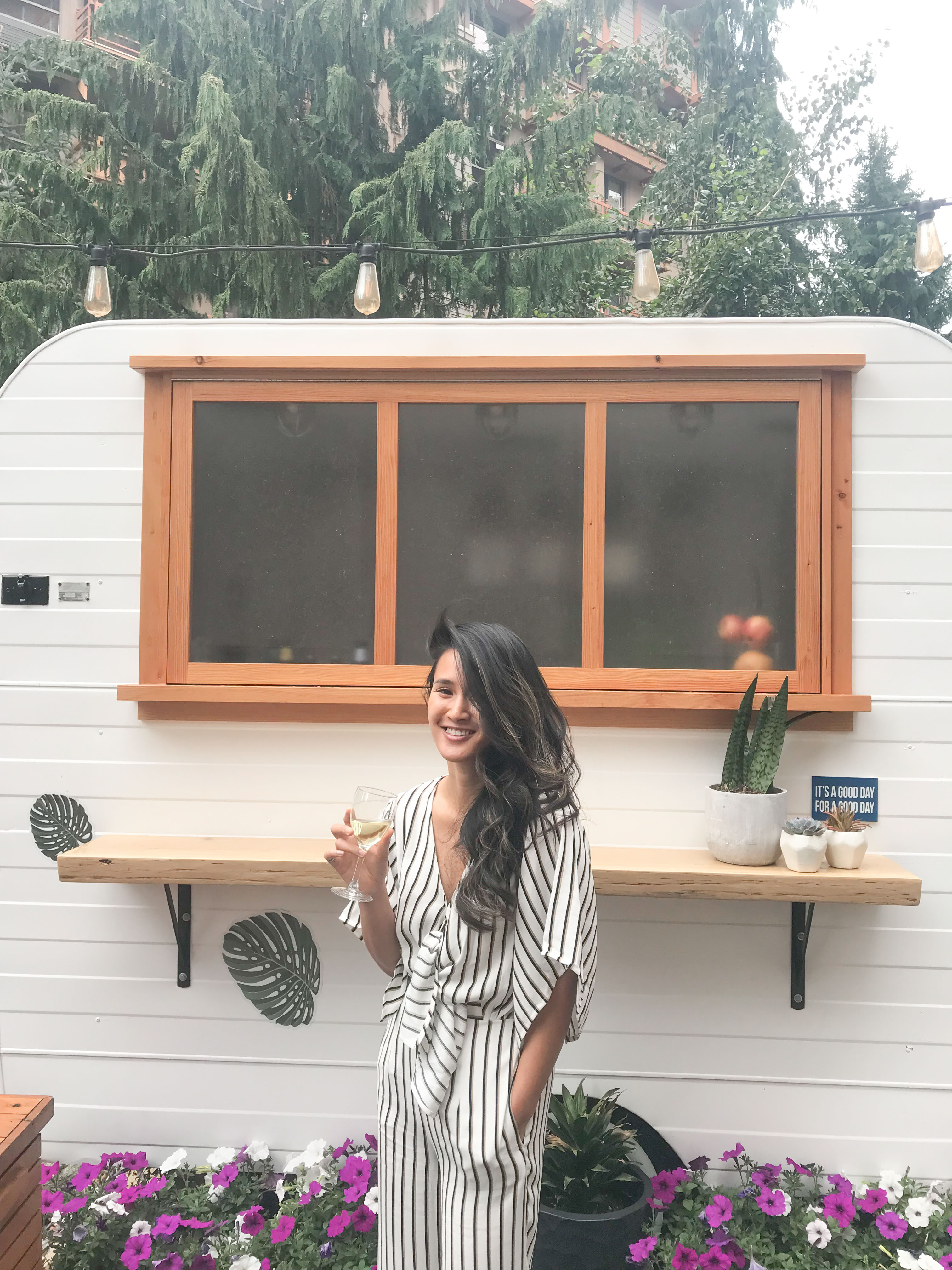 Once you finally make it back to your room to close out the night, be prepared to relax with tons of space. Rich wood, earth tones, and a glowing fireplace inside provide a seamless connection to the lush, green, wild nature just outside the window. We're not sure whether it's the free and easy sense of being on vacation, the fresh mountain air, or the cloud of a bed, but this place delivered some of our best slumbers ever. The only problem we had, is that after enjoying two restful sleeps in the plush bed, we may just have to upgrade our own bed at home! Or, we may just have to return this winter to relive the cozy warmth of the fireplace and watch those big white flakes flutter outside the window.