Weekend getaway to Victoria and the Oak Bay Beach Hotel
Victoria is the perfect spot for a weekend getaway. The city is beautiful, it's rich in history and culture, and its quaint seaside location makes for a picturesque and fun spot to explore. Although Victoria is a lovely destination no matter where you're coming from, it's an especially ideal spot for a weekend escape from Vancouver because it's the perfect distance away. The drive and ferry ride together are just long enough that you create some distance between yourself, home, and all the daily details running through your mind, but just short enough for a manageable and enjoyable trip. Each time we do this trip we don't feel the need to do much planning, rather, we simply hop in the car ready to reset the mind and body with a relaxing weekend away from home.
Something about Vancouver Island just has a way of calming us down. For us, our guard comes down the second we hear the click-clack of our four tires crossing the threshold onto the ferry. Followed by pure Pacific Northwest views of blues, greens, and a strong wind in our faces on the ferry deck en route to Victoria, it really can't get much better. Although Victoria isn't too far from Vancouver, the slowed down island atmosphere has a way of making us feel like we're so far away from everyday life in Vancouver, and we just can't quantify how refreshing this is for us.
Victoria has so many beautiful accommodations for you to temporarily call home. On our most recent trip, we decided to try the Oak Bay Beach Hotel. It's safe to say that it became one of our new favorite places in Victoria. About 15 minutes away from downtown Victoria, the Oak Bay Beach Hotel is the perfect destination for the traveler looking for an extremely relaxing and luxurious experience. The two main reasons that drew us to the hotel were the oceanfront location and their acclaimed heated seaside mineral pools.
As we rolled in on a rainy fall afternoon, the brick exterior and rich wood paneling and beams in the lobby created a cozy and inviting space, and it felt like the perfect place to retreat from the elements. Walking into the lobby, we felt the natural light through the large floor to ceiling windows ahead of us. On approach, it became clear that the hotel is sitting on an outcrop that stares straight out into the Pacific Ocean. This location is absolutely stunning. From this vantage point, green grass, gardens, and footpaths lead to the seaside mineral pools. In other words, this is the backyard of your dreams. The view alone is worth the trip, but together with the mineral pools, this spot will be sure to deliver all the relaxation you need.
The pools weren't overly hot, and were at a nice temperature that allowed us to comfortably chill and fully admire the amazing views of the ocean. From the far end of the pools, the perspective really makes you feel like you are right on top of the ocean. Although we are sure this place is absolutely amazing in the summer, we are actually glad we came on a gloomy, drizzly fall afternoon. We know, that sounds ridiculous. But for us, this little getaway was a chance to sit back and take a break from our day to day grind, so the dark and wet weather served as a welcome excuse to nestle down into our room and simply relax. From our balcony we could see the ocean mist rolling into the mineral pools, so at first it felt like it might not be the best time to head outside. We figured why not, and it was amazing to have the pools almost all to ourselves. Half submerged in the warm water, cool mist on our skin, and the expansive Pacific ahead was more impressive than we could have ever anticipated. Now we'll just have to return in the summer to compare what's better.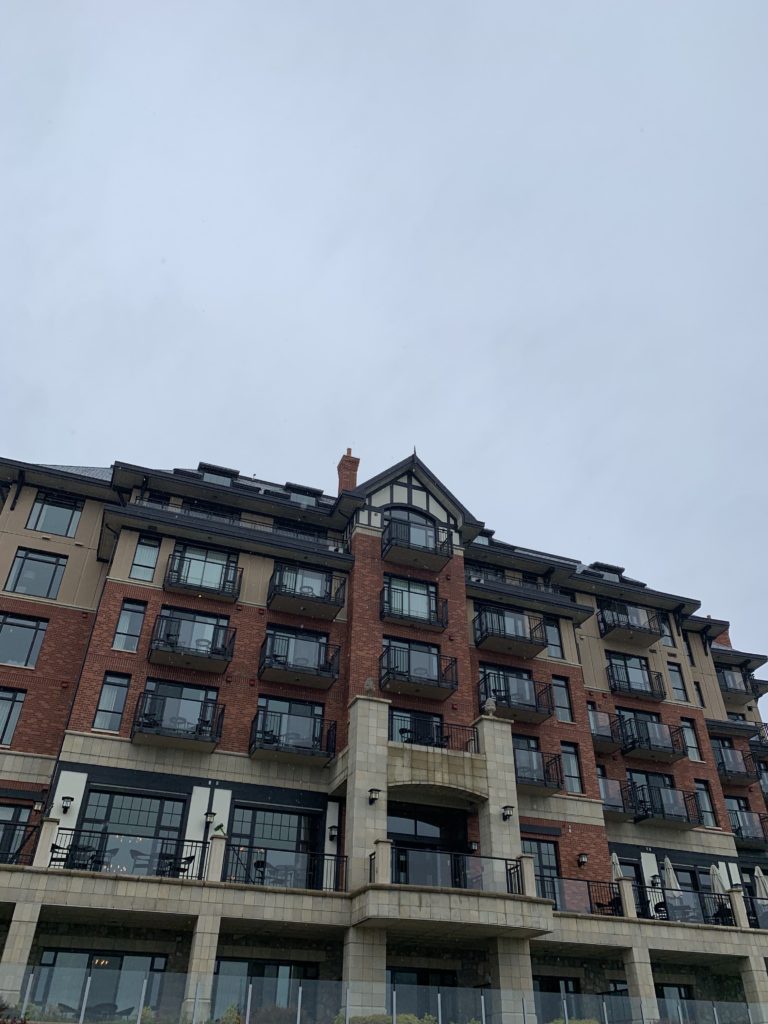 The vibe of the hotel is a mix of old and new. The original hotel was constructed in 1927, but it was completely reconstructed and rebuilt, and it was freshly reopened in 2012. Even though we don't pretend to be architecture buffs, we really appreciated how lots of elements from the original English manor style building were reused and recycled in the new structure, creating a new luxurious space with consistent nods to its original roots.
Although the location and mineral pools drew us here, the staff was so thoughtful and attentive, which really pushed this place to the top of the list for us. Upon arrival, the head concierge showed us to our room, and it's safe to say we were absolutely blown away that we'd be staying in the penthouse! Talk about unexpected! While the hotel itself pays homage to the hotel's initial days, the penthouse itself is stylish and contemporary, with everything you could want. It's so spacious, comfortable, and relaxing to say the least. Two levels, a dining area, and a huge living room make this place perfect for stretching out and hunkering down on a drizzly weekend like ours. While we could go on and on about the interior and heated floors, the views from the balcony to the amazing seaside mineral pools and ocean beyond really made our weekend. Such a calming place for us to think, recharge, and yes, maybe even catch up on a little bit of work.
We eventually forced ourselves out of the lovely hotel, and took a stroll around some cute shops in Oak Bay and ventured downtown to check off some of the must-see sights that Victoria boasts. Lots of cool shops and tasty restaurants make downtown a great place to check out.
After the day out and about, we returned back to the hotel and just plopped down into the immense sectional sofa. Just sitting here, watching and listening to the ocean from our balcony was all the entertainment we needed. In the morning we grabbed a delish breakfast at The Dining Room downstairs, and that was all she wrote! Our quick weekend had come to a close.
All in all, we were away from the bustle of life and work in Vancouver for just under 48 hours, but it's an understatement to say that this trip really left us feeling relaxed and energized to get back at the daily grind when we got home. And for us, feeling recharged and inspired is why we love to travel. Such a great trip.